You must come across a lot of matching tests when you are at school. These questions would ask you to match the meaning to the right words, match the capital city with the country, or match the book with its author, so on and so forth. You must still remember the times when you draw a line with your pencil to match the questions to the correct answers. However, as eLearning has already become such a hot topic today, you really should try some methods to make a matching quiz online. And you must be impressed after you have known how you could do computerized matching today.
*****Use the Open Source Code Online to Make a Matching Quiz*****
There're so many open sources online. First thing you should try is this interesting site. http://www.protonfish.com/quiz/ The site master makes up very interesting web quizzes. And in his matching quiz, the chosen option could follow the moving cursor. This idea is very creative and makes the whole matching quiz look unique. Plus, this author opens the code for all his quizzes. All you need to do is leave the link to his site at the bottom.
Also there're many free html matching quiz templates online for you to use. They create matching quizzes which are not so tricky but very practical, such as this Kelly's Online Quiz Writer. Now you know Google would do the rest of the work for you.
*****Make a Professional Flash Matching Quiz with Desktop Software*****
If you find this way of matching is too simple for you and you want a flash matching quiz or something compatible with your LMS, there're a bunch of software on market that can make matching quiz. Besides the famous Articulate QuizMaker, you could also include some affordable quiz making software in your choosing list. Wondershare QuizCreator is the one you don't want to miss out because of its robust flash quiz making functions.
You could make a popular matching drag and drop with it and add different interactive elements into it. Also you could easily make a graphic matching quiz because QuizCreator allows you to insert images into every single answers.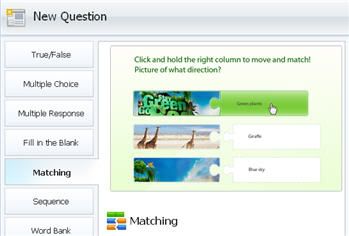 You could publish the matching quiz to a single Flash file and upload it on your blog. Or you could directly publish it to a SCORM file. Also you could upload the matching quiz to the QuizCreator Online Wondershare provides for free.
So here're only two ways to make a matching quiz. You could choose the one that suits you more and you could explore more methods to making a stunning matching quiz with search engines like Google. Good luck!
If you liked this post, you might also find these interesting: